Erfahren Sie mehr über HeartSine AED-Geräte und -Lösungen, indem Sie sich unsere Videos anschauen. Werden weitere Informationen benötigt, kontaktieren Sie uns bitte oder wenden Sie sich an unseren autorisierten HeartSine Vertriebspartner vor Ort.
HeartSine samaritan PAD 500P
Set Up, Use and Maintain the samaritan PAD 500P
HeartSine samaritan PAD 500P with CPR Advisor is not available in the United States
Die fortschrittliche CPR Advisor Technologie von HeartSine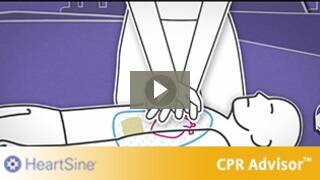 .
HeartSine samaritan PAD 360P
Set Up, Use and Maintain the samaritan PAD 360P
HeartSine samaritan PAD 350P
Set Up, Use and Maintain the samaritan PAD 350P